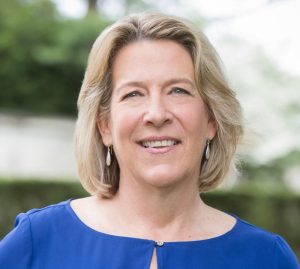 Anne Hale Miglarese is the founder and CEO of Radiant Earth Foundation, a nonprofit organization working to aggregate the world's open Earth imagery and provide access and education on its use to the global development community. Before launching Radiant Earth Foundation, Ms. Miglarese served as president and CEO of Fugro Earth Data, president and CEO of PlanetiQ, and as a principal director at Booz Allen Hamilton. In addition, she worked for the National Oceanic and Atmospheric Administration Coastal Services Center, where she directed remote sensing and GIS programs for over a decade. Early in her career she worked for several South Carolina agencies, including the Department of Health and Environmental Control, the Water Resources Commission, and the Department of Natural Resources.
Ms. Miglarese was the first chair of the National Geospatial Advisory Committee, a board member of URISA and MAPPS, and a founding member of the National States Geographic Information Council, and served on the Board of Visitors at the University of Maryland, the Civilian Application Committee, and, representing NOAA, the Federal Geographic Data Committee.
Ms. Miglarese currently serves on the boards of the Radiant Earth Foundation, TerraGo Technologies, Waggoner Engineering, and Board of Advisors for Saildrone, and as a member of NOAA's Advisory Committee for Commercial Remote Sensing.